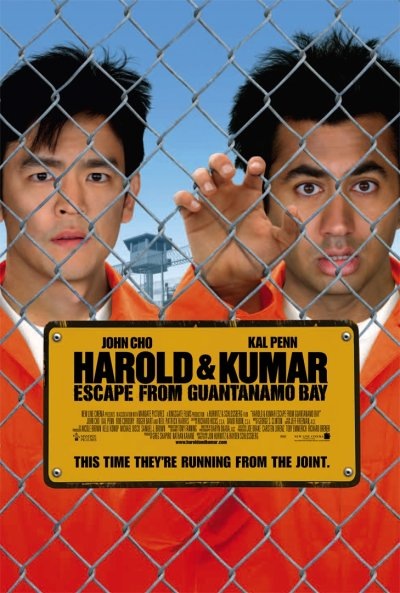 The original movie, with this heroic duo trying to make their way to White Castle has become a stoner cult- dare I say classic? Not generation defining like Dazed and Confused, Fast Times at Ridgemont High (or in my opinion, Superbad), but it will go down as a B level classic anyway. The sequel takes the concept and pummels it with social commentary. In a strange way, it actually works.
John Cho and Kal Penn reprise their roles as the titular characters. This time instead of trying to curb their munchies, they've been mistaken as terrorists, and are fleeing for their lives. They're on their way to Texas to get help from a connection in high places (who also happens to be marrying Kumar's lover interest).
On the surface, and after my first initial viewing, the movie was not very good. It was full of nudity jokes, flatulence humor, and of course drugs. The movie included a bottomless party (as opposed to topless) fellatio as a means of torture, a backwoods incestuous marriage, and a pot smoking President Bush (a really bad impression at that).
After that description you may be surprised to hear me recommend it. Despite all the crude humor, there is an important social undertone. Unlike the first movie which glossed over the main characters being Asians (except for one scene), that trait defines the course of this movie. A jumpy and paranoid old woman is the one who thought they were terrorists, and everyone else just followed suit. Racial bigotry is rampant in this movie- on all fronts. Every person is stereotyped, and this is done with the complete intention to not offend, but to provoke thought. You're not prodded to laugh at the stereotypes, but laugh at the people who actually feel this way.
This is a tough movie to sell. The people who will be laughing at it, are not those who will be seeing the undertones. And this may be the point. It takes a serious message and coats it in stoner humor. Best of all is that Neil Patrick Harris also returns, playing himself more wild than ever before. During his scenes I could not stop laughing.
This is a very curious movie. It's clearly low-brow humor, but with a deep intellectual message. Harold and Kumar are shaping up to be a subversive force to make even Noam Chomsky proud. I genuinely feel that it's people who watch movies like this and take these counter-stereotypes to heart (whether consciously or not), who are going to be changing the world.
3/5